Bruce's 928 Tech Tips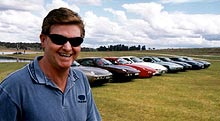 Bruce Buchanan is a factory-trained Porsche mechanic whose love of the 928 is evident to any of us who have ever spoken with him. He is kindly providing technical tips for landsharkoz.

His motivation in providing this column is primarily to help owners prevent some of those needless, wallet-sapping expenses that we've all heard about.

Note: that these views are not necessarily the official 'factory' line but are based on Bruce's twenty or more years of working on our favourite Landshark.
This photo of the Polished Inlet Manifolds, are from a 951 (944 Turbo). My son Sean enhanced it by dismantling and polishing all the sand cast marks out to get a mirror finish. This can also be done to all 928 models from '78 to '85 inclusive.

The photo of the Twin Cam, cam cover, 944's, 944 S2's, 928 86 M2846 and 928S4 GT/GTS, when new they were a shade of Silver. After many years and use of caustic engine degreasers this has turned these painted magnesium covers and inlet manifolds beige. The paint soon begins to peel, revealing corroded magnesium alloy dust underneath. Remember, these items are too fragile to sand blast as you will only increase the number of holes in them.

They have to be stripped back manually and then buffed to remove all the magnesium dust and corrosion, because you cannot paint on a surface made of semi loose dust. They are then to be painted in Primer, then Silver. You can then paint the letters with Red before you apply the clear gloss.

Buchanan Automotive.
Unit 2/2 Paton Pl,
Balgowlah NSW Australia 2093
+61 (0)2 9948 2651