Paul Dortkamp
at Wakefield Park with the PCNSW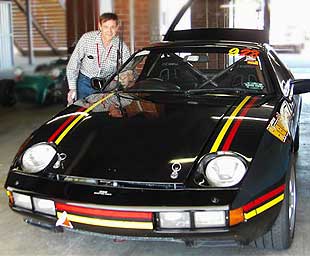 Hi, a track report from NSW Australia. Wakefield Park is a track located about two hours drive south of Sydney. It is about 2.2 km long with a long front straight, a tricky curve in the middle called the fishhook and a short back straight. It runs clockwise.
My previous ventures there included my first ever track day in 2003 for an all 928 day in my old 1980 S and again in May 2007 with the Porsche Club of New South Wales in my 1990 S4 on R spec tyres.
My recollection was of a great time pushing a heavy car around a tight track with a few excursions onto the grass when pushing too hard through the fishhook.
This time was definitely different. I was in my 1978 track car with a lot more track time and plenty of driver training days as well as more club supersprints over the past year and a half.
It started with a chilly early morning drive with the temperature falling from around 13 degrees C in Sydney, to 7 at the track. Around 25 of us were there on Friday, a day earlier than the PCNSW event, to have practice day organised by PR Technology, one of the PCNSW corporate supporters.
It was an open pit lane format and I did around 4 sessions of 15 laps each and two more of around 10 laps and covered about 180kms and a full tank of fuel. It was very different to being in the S4 when my best lap times were around 1:21. My lap times were erratic as I tried different lines and gears but settled down to in the high teens. We put air in the tyres to get the temperatures up as the track stayed cold in the overcast conditions.
After lunch, I upped the pace, did one session on-the-pace and saw the lap times come down to the mid teens. Had another flying session with some times in the 1:13s, then late in the day grabbed a session with an instructor in the car (Barton Mawer of Carrera Cup fame) for plenty of pointers. I did not get Barton in the car with me until I had learnt the track and become used the the car / tyres / cool conditions.
I could then just drive, as Barton pointed out better lines and braking points and also left me with the comment that I seemed to be "holding back" a little ... hmm and I thought I was driving my heart out.
Well Saturday was the real event. I have found it one thing to set a good time on a practice day and a different thing to set a good time in a four timed lap format, when you are in with other slower and faster cars. After scrutineering, I found I had been placed in speed group five, the slowest group for our practice session. The PCNSW format is to do one session in the morning of around ten laps to get unofficial times for the later speed events. It lets the organisers re-group and put the cars into order of fastest to slowest within the five speed groups. This minimises the need for overtaking and reduces the risk of being baulked by slower cars.
To my dismay when I got to the dummy grid for the practice session my plans for being first out were thwarted by other hopefuls with the same idea.
Luckily for me my dilemma was solved by the Club Captain who asked what the f*** was I doing in the middle of this group and arranged for me to go out second in the group behind a very quick Boxster. I chased the Boxster for a few laps until we started to lap the slower cars and became separated, as passing was only permitted on the two straights. I saw a few times around 1:16 and hoped it would be enough to get me into speed group four.
When I reviewed my times I had recorded a 1:14.6 which put me in in the top half of speed group four, for the official timed sessions, surprising quite a few drivers who had been faster than me at Eastern Creek and Oran Park earlier in the year. We had five official timed sessions and the top four cars in our speed group swapped positions on the grid to maximise our ability to drive in clear air.
This is easier to do than you may think as we were probably all in different classes which are based on power to weight, our biggest class is in D and I am in B due to the lower weight (1340kg) of the track car.
This degree of good sportsmanship is what really made the day for me. Before each run, we discussed how we were going and varied the running order depending on how we were progressing, most refreshing. In session one, I was clearly being out driven by the 968 behind me, so we swapped positions for session two. In session two, I chased him around and paid close attention to his braking points and began to out brake him. In Session three I was all over the 968 in the first lap and he waved me past on the straight giving me two clear laps, while he then had the fun of chasing me as my times came down to the mid 1:13s, close to where I had been the day before.
The final session was a combined three, four, five speed group as many had left for the day, luckily for me I was third car out and had a decent gap to the first pair which I started to reel in.
By the final lap I had caught and passed a 944 turbo when he missed a gear on the the turn into the main straight and he waved me past. When we had a chat after the session we were both surprised that I had caught him. My best time in the final session was 1:12.4 a nine second improvement on my time two years ago in the S4.
What made this day a great day rather than just a good day with some good times, was the sportsmanship of people I had up to now only had a nodding acquaintance with. Isn't this what owning and driving these fine cars is about?
Paul Dortkamp
1978 Track Car
1990 S4 Tourer

---